Private practice – Clients across the lifespan.
Rhythm4wellbeing – rhythm & reflection in group settings. See below.
Building musical relationships alongside those with dementia.
IHC Idea Services 2022/23 Providing music therapy for service users across Canterbury
Rhythm4wellbeing focuses on personal growth and positive relationships. Groups are strength based and solution focused. Values are clarified through rhythmic activities and reflection.
A. School groups for social and emotional development (aligns with NZ Curriculum)
B Workplace Wellness – healthy relationships in the workplace/team building.
C Professional development for staff in educational institutions
D Wellbeing in community contexts.

I am passionate about personal development through building musical relationships.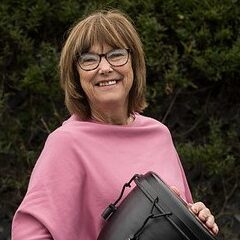 Elizabeth Bolwell, NZ RMTh
Bachelor of Education – Teaching qualifications 1985 – 2000.
Cert Tefl – Otago University 2003.
Master of Music Therapy M MusTh 2015.