Lois's life challenges and changes
I've always been a fairly active person; a wife and mother of five, I travelled, gardened, enjoyed theatre, music, and the visual arts.
I loved meeting old friends, doing quizzes and puzzles, and studying genealogy. In recent years I became a grandmother and baby sitter. So when I was diagnosed with Parkinson's Disease in 2010 it was a devastating blow.
It 'knocked the confidence' out of me. For a time I felt defined by the Parkinson's. Having little knowledge of the problem, I thought my world had come to an end and I crawled into my cage.
Slowly I came to terms with Parkinson's, but I hadn't quite thrown away my 'safety net'. However, when I received an invitation to be part of a Therapeutic Choir Pilot, a choir for people with neurological conditions, I mulled it over and said "yes" because I liked music and it would get me out of the house.
It certainly would not do me any harm to give it a go! It was one of the best decisions I have ever made. A group of about twenty people first met in February 2012, and the pilot was an instant success. The choir has been operating for almost eight years now and attendance has averaged between 30 and 40 each week – winter and summer.
The music is stimulating and worth getting out of bed for. Over time I have observed how much my confidence has returned. I've organised a reunion for my musical theatre group, and the Cantabrainer's raffles. I've joined my church choir and have been an active member of the Cantabrainers Choir. At times I've even forgotten I've got Parkinsons. At choir, I see others who are worse off than me, improve. They remind me I have Parkinson's.
This motivates me to practice everything the Speech and Music Therapists have taught me. They push me to do solos and duos, which also encourages me to practice. This practice shows in my voice.. I am really enjoying the music and all the challenges it brings. When I started choir I hadn't sung for 'yonks' and my voice was weak.
I have observed "little miracles" in other choir members. People with very quiet voices have learned to speak and sing out loud like myself. One choir member is no longer wheelchair bound, is walking again and living independently.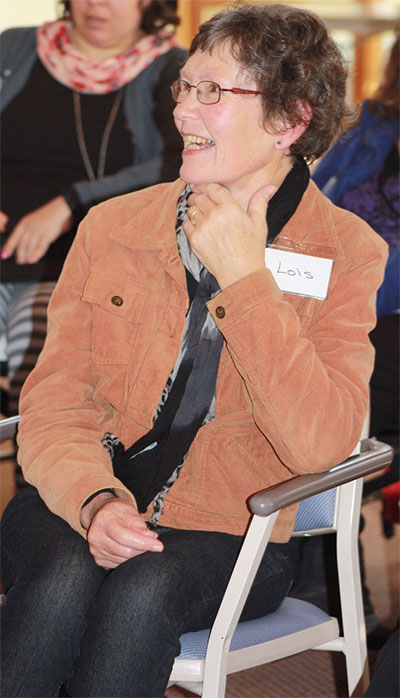 Every session we discover something amazing
The caregivers are worth their weight in gold. Those who stay for the session join in. Choir members, carers and staff are very special people who all have talents in various areas.
Every session we discover something amazing about those who attend. When composing and writing new parodies we have brainstorming sessions and I come away feeling very satisfied.
We were all involved with the naming of the Choir "CANTABRAINERS THERAPEUTIC CHOIR" which is in the process of becoming a Trust. As a group we have done several performances in the public arena, including two concerts a year and performances at hospitals and retirement villages.
I feel so passionate about the choir I would be devastated if it had to fold. There are so many benefits to Music Therapy. The Music Therapist and the Speech and Language Therapists are brilliant, and they are the reason I keep going back!
We all have a story about our journey to Canterbrainers Choir. It encourages us to keep setting goals and challenges for ourselves and to keep the brain active – to keep on keeping on! The music has been a real uplift and meeting new people has been wonderful and so much fun.
I have a lot more confidence than I had. It got me out of my cage.
Lois James
Learn how Music Therapy impacts lives by watching this brief video clip of the SoundsWell Singers in Wellington. Listen to first-hand accounts of music bringing about positive change for people.