Congratulations to the Raukatauri Music Therapy Centre , awarded the Arts Access Holdsworth Creative Spaces Award.

When the Raukatauri Music Therapy Centre first opened in 2004 it had just one client, one music therapist and two instruments – a violin and a piano. Fifteen years later the centre has over 260 clients, nine music therapists and more than 500 different instruments.
The Auckland-based centre, which is New Zealand's only music therapy centre, has recently set up regional centres in Hawke's Bay and Northland, and earlier this year it expanded its Auckland services to include weekly sessions at Starship Children's Hospital and the Mason Clinic, which provides forensic psychiatry services in Auckland. And in August this year, it started a weekly programme at Hawke's Bay Regional Prison.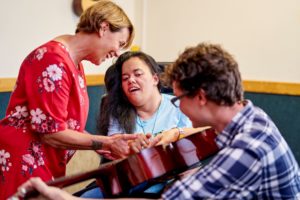 Raukatauri Music Therapy Centre's commitment to providing music therapy to people who have emotional, intellectual, physical and social challenges was recognised at Te Putanga Toi Arts Access Awards 2019 on 11 September when it received the Arts Access Holdsworth Creative Space Award.
In their comments, the judging panel said: "This nomination had the wow factor! Raukatauri Music Therapy Centre delivers quality programmes to a wide range of clients and their families with outstanding results. It has a clearly articulated vision and policies, responding to need and expanding its services beyond Auckland and into Hawke's Bay and Northland."  Read more