Music Therapy New Zealand is looking forward to celebrating Music Therapy Week 2019
September 16th-22nd. 
'Put the Beat Back in Your Step' 
Supporting Mental Health & Wellbeing.

We would like to thank 
Hugo Charitable Trust for supporting Music Therapy New Zealand,  to bring Music Therapy Week 2019 to our communities. 
We are excited to share two amazing projects with you all which we would not have been able to achieve without their support. 
Stay tuned!!
Upcoming Event- Save the Date!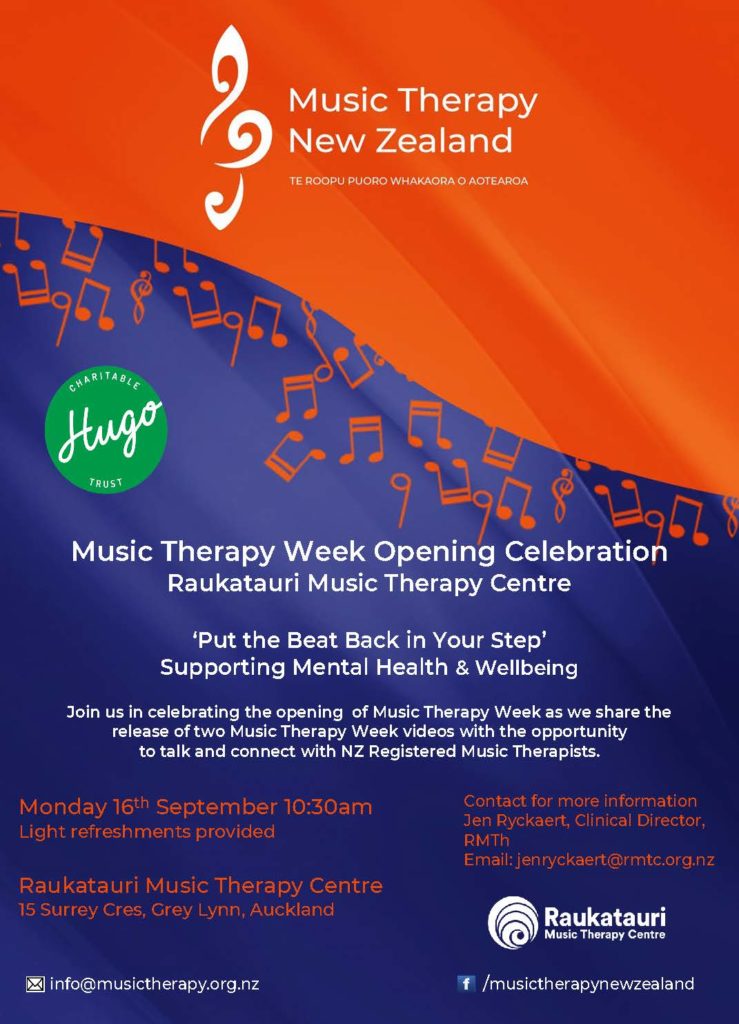 Music Therapy Week – Opening Celebration
'Put the Beat Back in Your Step'
Monday 16th September, 10.30AM
Raukatauri Music Therapy Centre will be hosting the opening celebration of this year's Music Therapy Week awareness campaign by screening two short films. The films focus on different elements on how Music Therapy is benefitting people in New Zealand, the first based in Christchurch at Stand Tu Maia working with children who have experienced significant complex trauma and the second created about neurological choirs (SoundsWell Singers in Wellington & Cantabrainers Choir in Christchurch) supporting the health of those who have experienced a neurological condition. This will be followed by morning tea and kai where you will have the opportunity to converse with NZ Registered Music Therapists.
Music Therapy New Zealand's annual awareness campaign will run from September 16 – 22 to proudly advocate for music therapy services and the highly qualified NZ Registered Music Therapists (NZRMTh), as well as celebrating the spectacular triumphs that Music Therapy is having across Aotearoa.
Please RSVP to nicolette@elephantpublicity.co.nz