Ronnie's Fund was established in 2017 by Peta Wellstead, a friend member of MThNZ, in honour of her mother, Ronnie. The fund was established to provide seed funding for regional music therapy projects throughout Aotearoa New Zealand that are sustainable and have a 'give back' component (rather than 'one-off' projects) to the provision and/or promotion of music therapy. It is hoped that this fund will at some point provide a scholarship for the training of a potential practitioner from the South Island Region. All MThNZ members are welcome to apply, and those from the Nelson region are encouraged to apply
A project entitled The Enrichment Programme for the Diverse Learner was supported by a successful application to Ronnies Fund and facilitated by Marlborough Music Therapy.  A group of six young people ranging in age from 8 – 16yrs old with intellectual and physical disabilities from five schools across Marlborough attended weekly music therapy sessions. The twenty week programme was supported by teacher aides, parents and ORS teachers and varied from in-person to zoom sessions depending on covid restrictions.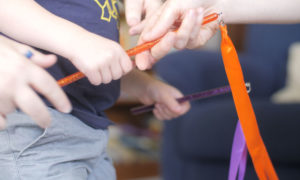 Subsequent interactions with SENCOs at the five schools led to the setup of a second music therapy group within one of the referring schools. With an increase in challenging behaviours, anxiety, depression and anger in the classroom and playground, teachers were enthusiastic to explore group music therapy as a way to develop emotional regulation in children. The twenty week programme offered a group of eight boys, aged 6-7yrs opportunities to identify and express their emotions in a safe and appropriate way; Develop strategies to manage negative feelings and develop social skills through role-play, drumming and improvisation circles.  It was agreed the amount gifted by Ronnie's Fund would be matched by the school so both groups would run concurrently for two terms. There was further support given by the Intermediate School which offered the use of space at no cost. The gift of the room allowed for the funding over two terms for an individual session of an 11yr old girl referred for social / emotional support.  
Marlborough Music Therapy would like to thank Peta Wellstead of Ronnie's Fund. The donation opened doors to allow music therapy to impact fifteen children across five schools and allowed new connections to develop into deeper relationships as we continue to advocate for the role of a school based music therapist. 
Yvonne MacSweeny
Grants Awarded since 2020
$900 – Music Therapy study support for distance learning

$4250 – Diverse Learner's Programme