Music Therapy Week 2021
November 15, 2021

-

November 21, 2021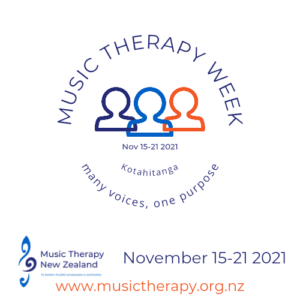 Music Therapy New Zealand (MThNZ) is proud to confirm our annual awareness campaign, advocating for vital therapeutic services and the highly skilled professionals providing them. It is a wonderful opportunity to celebrate and showcase the innovative successes of this unique practice in communities right across Aotearoa, Music Therapy Week is running from November 15-19.
As a practice, music therapy is the planned use of music to assist the health and personal growth of people with identified needs. Registered music therapists are highly skilled to work with a diverse range of people, experiences, and conditions. The adaptability and versatility of music therapy allows the practice to be applied in a variety of contexts such as schools, community spaces, hospitals, care and supported living facilities, prisons, and within private practices.
In Aotearoa, music therapy is also increasingly being used to assist in general wellbeing, as well as providing support for those living through the challenges of trauma, separation, grief, and end-of-life care.
Experienced NZ RMTh May Clulee, who is based in Christchurch, says the spirit of collaboration and celebrating the diversity of the field is vital to the future of the practice. "This year we focus on whiria ngā tangata – weaving the people together. We come together as many diverse voices with one purpose: to champion potential and wellbeing through the professional practice of music therapy." In this vein, Music Therapy NZ has embraced Kotahitanga – Many Voices, One Purpose as the theme for this year's Music Therapy Week. Reaching out around the country, therapists in smaller communities across the motu are being encouraged to host events and open days during the week-long campaign, while those limited by elevated alert level restrictions can engage with the various digital events.
See our Music Therapy Week page for more!