Music Therapy Symposium & MThNZ AGM 2019
August 17, 2019 @ 8:45 am

-

August 18, 2019 @ 3:45 pm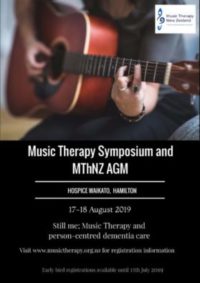 Music Therapy Symposium 2019 Registration Information:
Welcome to Music Therapy Symposium we have an exciting 2 day program for 2019.
Buy your tickets and fill out the registration form online.
Please note this is a new program for our website and we will do our best to make this process seamless for you, please follow the registration ticketing instructions below:
Click on Register and follow the payment prompt where you can also print your ticket. You will receive an email link, click on this and you will see a green edit button – click edit which will take you to a box 

please fill this in to complete your online registration. In the fillable boxes you will find an option to join us for dinner on Saturday evening at 6.30pm, atBabaganush: 379-381 Grey Street, Hamilton East, (N.B. this is not included in your registration fee, and you must fill in the box to guarantee a seat for dinner).
Note on the updated poster up on the website, that early bird registration finishes on Monday 15 July and that there will be no extension beyond this date.
We thank those who submitted a proposal, and congratulate the individuals who have had their presentation accepted.
Also we are very grateful to the Waikato Regional group who are hosting this conference in conjunction with MThNZ, your efforts are much appreciated.
We look forward to seeing you at the symposium and ask that you please forward the poster and programme ( or provide a link to the website) to colleagues and any other potentially interested non member individuals in your wider professional community.
Music Therapy Symposium Program