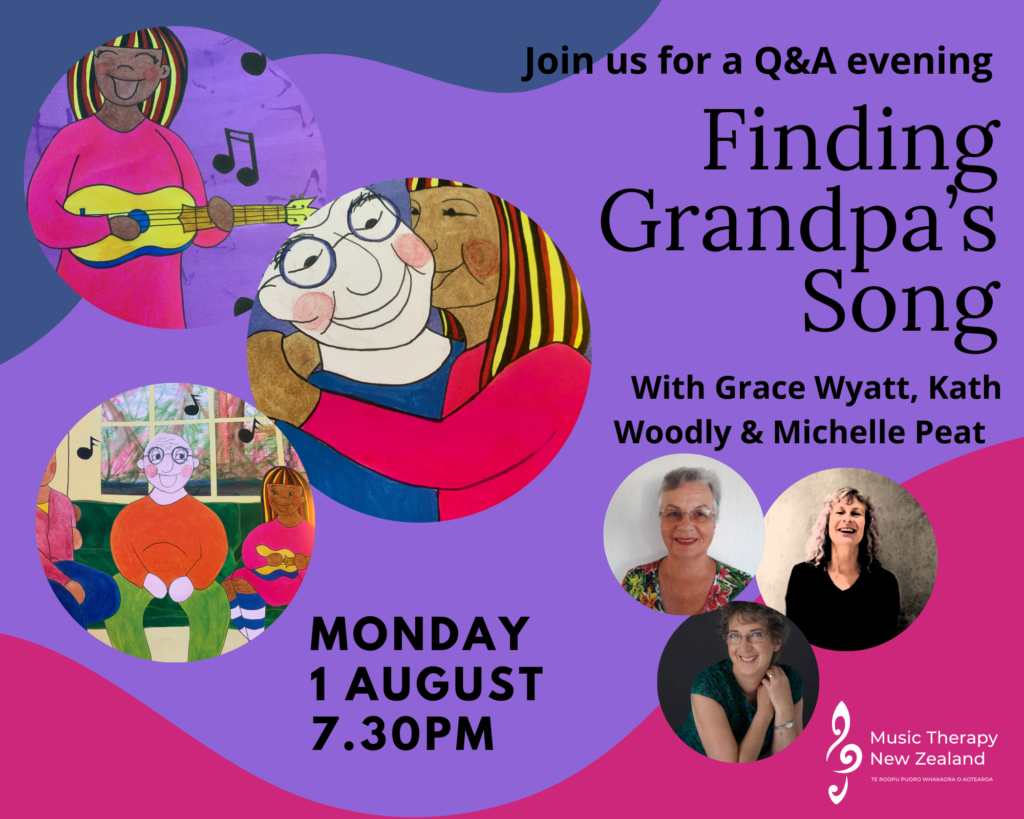 A warm invitation this special online event, celebrating the book "Finding Grandpa's Song"
produced by Music Moves Me Trust, with profits generously donated to Music Therapy New Zealand.
Event Details
Monday August 1st, 7:30pm (via Zoom)
A Zoom link will be sent following registration.
About the Book
Ruby knows something big is going on in her family; lots of meetings and changes are happening, Grandpa moves in and Ruby notices he sometimes forgets things. Ruby works out a way to help him.
This book is dedicated to all those who care for people with dementia with deep respect for the lives of those living with dementia.
Grace Wyatt, Author

Grace loves to teach children and share picture books that have excellent stories with her classes. She also enjoys writing. Grace has experienced the positive effect of music on a very ill loved one. She also has experienced dementia in her family and wrote this story with that person in mind. Grace has also developed online teaching resources related to this book.
Michelle Peat, Illustrator
This is the second children's book that artist and writer, Michelle Peat, has made. She has written and illlustrated The Rascally Stars and is currently working on an art journal for teens. Michelle lives wiith her family in Hamilton. Art has big magic in her life. Find out more at
https://www.michellepeat.co.nz
.
Thank you

Many thanks to Music Moves Me Trust for the generous donation of profits from this book. Illustrations were funded by BUPA.
Book Sales
The book is for sale from Music Therapy New Zealand – $20 including postage (in NZ).
Order online:
https://www.musictherapy.org.nz/whats-happening/finding-grandpas-song/?fbclid=IwAR1AaE5csgDJm9BEfvtu5GO7rtHB8h8O_dbKkNjAo-9tbeBDr4RiCGNuUiU
Inquiries: info@musictherapy.org.nz