Statement updated April 13th 2021
New Zealand is currently at Alert Level 1.
At Alert Level 1 we all need to be ready in case COVID-19 reappears in our community. Please check the government's COVID-19 guidelines.
As the situation may change, below you will find helpful links – to be revised as needed.
If you feel unwell…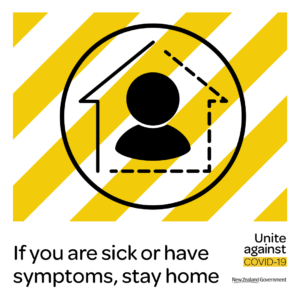 Stay home and do not go to work.
Call your GP or Healthline's dedicated 24 hour COVID-19 number:
0800 358 5453.
Music therapy clients/participants should not attend if unwell.
Mental Health and Wellbeing
Mental health and wellbeing are important issues, and heightened during the pandemic.
The Mental Health Foundation's resources, aimed at workplace leaders and employers, but useful for all.
If you are worried or upset, talk to family, friends, colleagues, your supervisor or a health professional;
or call / text 1737, a free helpline for all New Zealanders.

Health and Safety during COVID-19
As Registered Music Therapists work in a wide variety of settings with diverse clients, it is difficult to advise general rules for professional practice. Everyone needs to assess their own situations (both professional and personal) to mitigate any potential risk factors, and follow procedures at the facilities where you work. If you work with immune compromised, medically vulnerable, or elderly clients in particular, please consider these issues carefully. Social distancing, hand hygiene, and general cleaning are still important measures to consider. 
Singing and Wind Instruments
If you use singing and/or wind instruments in your professional practice, caution is needed (above Alert Level 1) in addition to usual health and safety procedures. You might find these resources helpful:
Advice from AHANZ
Heather Fletcher, Music Therapy New Zealand's representative with AHANZ (Allied Health Aotearoa New Zealand), has  attended Zoom sessions with Martin Chadwick, Chief Allied Health Officer for the Ministry of Health.  The link below is being updated regularly. Heather is happy to accept any questions to take to the forum on behalf of MThNZ. Please email your questions to Heather.
Aon Professional Indemnity Insurance
DId you know? Aon (which also insures MThNZ) offers MThNZ members a discount on their Professional Liability Insurance policies.
Telehealth Resources
If you need any further information…
Please do not hesitate to contact the MThNZ Executive Officer,  Lara Burke.