Covid-19

Statement updated August 19 2021
New Zealand is currently at Alert Level 4.
From 11:59pm on Tuesday 17 August you can only leave home to shop for groceries, access necessary healthcare, get a COVID-19 test, exercise in your local area, or go to work if you are working in an Alert Level 4 service and cannot work from home.. Please check the government's COVID-19 guidelines.
As the situation may change, below you will find helpful links – to be revised as needed.
If you feel unwell…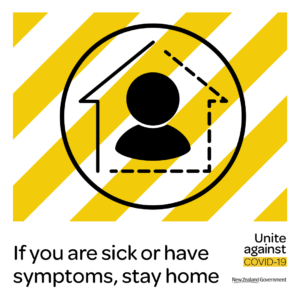 Stay home and do not go to work.
Call your GP or Healthline's dedicated 24 hour COVID-19 number:
0800 358 5453.
Music therapy clients/participants should not attend if unwell.
Mental Health and Wellbeing
Mental health and wellbeing are important issues, and heightened during the pandemic.
The Mental Health Foundation's resources, aimed at workplace leaders and employers, but useful for all.
If you are worried or upset, talk to family, friends, colleagues, your supervisor or a health professional;
or call / text 1737, a free helpline for all New Zealanders.

Health and Safety during COVID-19
As Registered Music Therapists work in a wide variety of settings with diverse clients, it is difficult to advise general rules for professional practice. Everyone needs to assess their own situations (both professional and personal) to mitigate any potential risk factors, and follow procedures at the facilities where you work. If you work with immune compromised, medically vulnerable, or elderly clients in particular, please consider these issues carefully. Social distancing, hand hygiene, and general cleaning are still important measures to consider. 
Singing and Wind Instruments
If you use singing and/or wind instruments in your professional practice, caution is needed (above Alert Level 1) in addition to usual health and safety procedures. You might find these resources helpful:
Advice from AHANZ (Allied Health Aotearoa New Zealand)
Following a conversation with Martin Chadwick (Chief Allied Health Professions Officer, Ministry of Health) earlier today, he has issued the following message to all allied health, scientific and technical service providers. Please pass the information on to your members.
With the move to Alert Level 4 it has given us the opportunity to review access to services in light of the Delta variant of COVID-19. This notice intends to minimise the confusion of multiple messages.
The Alert Level 4 health services scope of provision is to preserve life or limb only.
Level 4 is an emergency measure and has been put in place to be a transmission circuit breaker.
Health service provision should not be face to face other than to preserve life or limb.
Where possible all consultations should be via methods of telehealth.
We must not underestimate the transmissibility of the Delta variant; this is significantly different to the last outbreak. If your patient needs are urgent/acute and cannot be assessed, or treated via telehealth, please contact your local DHB and refer them to these services.
This status will not change until the Alert Levels drop and face to face consultations resume. Please consider your scope of practice, develop, and prepare alternate care plans and connect with your colleagues. We need to continue to protect each other, reduce risk and prevent transmission.
This notice will also be posted on the COVID-19 allied health, scientific and technical providers web page.
We will get through this together, working in partnership as a team of 5 million, kia kaha.
Stay safe,

Nikky Winchester
Executive Director, AHANZ
executivedirector@alliedhealth.org.nz
Please email any questions to Heather.
Telehealth Resources
If you need any further information…
Please do not hesitate to contact the MThNZ Executive Officer,  Lara Burke.